This dude is hands down the illest out right now (that INCLUDES niggas i personally know). I aint heard a dude spit with so much heart and soul like this since ya favorite rappers from the 90's. "Can I Live" & "Hold It Down" are my favorite tracks.
Remember when Hov on Backstage said, "Theres a nigga eating some applejacks writing some
SHIT
,when i find him,imma sign him,i dont want no problems". This is that dude...(
No wonder he signed him to RocNation soon as he heard him ;)
)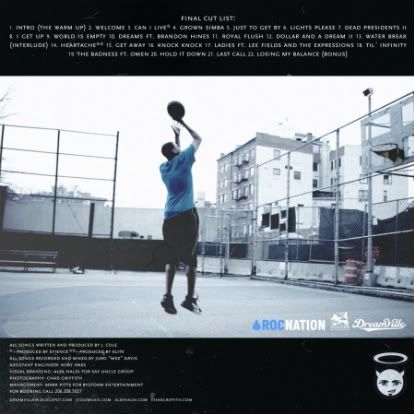 1. Intro (The Warm Up)
2. Welcome
3. Can I Live* (Produced by Syience)
4. Grown Simba
5. Just To Get By
6. Lights Please
7. Dead Presidents II
8. I Get Up
9. World Is Empty
10. Dreams ft. Brandon Hines
11. Royal Flush
12. Dollar and a Dream II
13. Water Break (Interlude)
14. Heartache** (Produced by Elite)
15. Get Away
16. Knock Knock
17. Ladies ft. Lee Fields and The Expressions
18. Til' Infinity
19. The Badness ft.
Omen
20. Hold It Down
21. Last Call
Bonus-
22. Losing My Balance
All Songs Written and Produced by J. Cole
* - Produced by
Syience
** - Produced by
Elite
Download:
www.zshare.net/download/61387621768d47a2/
for real . . . you already know
-Pay Attention-